Personalized Development Can Bridge The Gap Between Being A Great Employee And A Great Leader.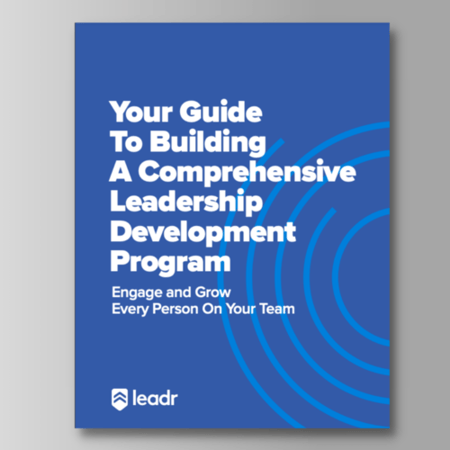 Your Guide To Building A Comprehensive Leadership Development Program walks you through the process of building a customized program at your organization that engages and grows team members at every level of your organization.
We're often surprised when an employee is disengaged, yet we've failed by not giving them something to strive toward through their own development plan.
We get a lot of questions about how to develop people in a customized but scalable way, so we decided to create this eBook as a tool to help leaders like you implement your own programs within your organization.
This eBook contains:
A walk through how we here at Leadr created our internal leadership development program, LeadrU
A walk through how we here at Leadr created our internal leadership development program, LeadrU
The necessary components of a successful and engaging leadership development program
The necessary components of a successful and engaging leadership development program
Templates and language to get you started building your own plan
Templates and language to get you started building your own plan
BONUS: A downloadable leadership development template to utilize at your organization
BONUS: A downloadable leadership development template to utilize at your organization
"The number one reason people change jobs today is career growth opportunities."
— Gallup